Fishing
Jump to navigation
Jump to search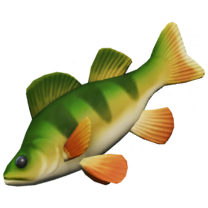 Fishing is an action using the Fishing Pole to cast in water to catch Fish. Fish are an ingredient type which can only be caught in pools of water when fishing. Fish can be used for cooking, consumed for Energy, sold for Star Coins or gifted to villagers to raise Friendship. Specific Memories must also be collected through fishing.
Even though fish are an ingredient for cooking, they're tracked in a separate section of the collection window labeled 'Fish'. The entry for each fish unlocks when they are first caught.
Moana's Boat is an important unlock to support fishing. It will provide free fish every few hours, but just as importantly will provide up to a 20% reduction in energy required for fishing which will allow more actions without needing to restore energy using food.
How to Fish
Casting anywhere into water can hook a fish, but specific (and more valuable) fish types can only be caught in 'Pools' which appear as ripples. Different colored pools denote rare potential fish.
To cast into a pool the player must position themselves so they are facing it, then charge the cast so the line drops into the pool area. If it 'attaches' to the pool the line will appear in the center of the ripple.
When a fish bites a circle will shrink around the ripple, when it enters the colored zone it will turn from white to green. When it's green, tap the action button to hook the line. If you miss the hook the fish will release (but still remain available to catch again). Some higher level fish require hooking multiple times before being caught.
There's a rare chance when fishing that Red Algae will drop, which is a rare resource used to craft fishing bait. By using fishing bait, any cast into a white ripple will turn into a gold ripple.
Villager Companions
When reaching level 2 Friendship with a villager (aside from Ariel or Ursula), they can be assigned a role. Villagers who have been assigned the Fishing Role will gain extra Friendship for every fish caught. They also have a chance to drop extra fish when any fish is caught while they're following. Extra materials they produce will be dropped on the ground, and can be picked up by running over them.
Each level of friendship increases the rate which extra materials will drop. It's not only effective for leveling up Friendship with these characters, but extremely helpful for offering bonus materials when fishing. Be sure to always bring a Companion along when fishing!
Fish Types
Image
Name
Description
Ripples
Weather
Sell Price
Energy
Locations

Anglerfish
Bony fish with large mouths and sharp teeth!

Gold

1,500
+2,000
Forgotten Lands

Bass
Bass can be found just about everywhere in the Meadow.

None

25
+150

Peaceful Meadow
Forest of Valor
Sunlit Plateau
Frosted Heights

Bream
Silver-hued fish common in mountain streams.

Blue

280
+1,300
Peaceful Meadow

Carp
A common freshwater fish.

Blue

400
+800

Catfish
A large fish with cat-like "whiskers."

Gold

550
+1,200
Peaceful Meadow

Cod
A common fish that prefers cold water.

None

35
+150

Crab
A tough little crustacean with sharp claws.

Blue

600
+1,200
Frosted Heights

Fugu
These fish inflate themselves when threatened!

Gold

Rain
900
+1,700
Dazzle Beach

Herring
These silver darlings travel in great numbers.

White

65
+250

Kingfish
A mackerel found in warmer ocean waters.

Blue

450
+800
Dazzle Beach

Lancetfish
Long, slender fish with a large silver dorsal fin.

Blue

650
+1,300
Forgotten Lands

Lobster
Larger than crabs, but still with sharp claws!

Gold

950
+1,600
Glade of Trust

Perch
A rare fish found only in a special spot.

White

80
+400

Pike
An olive green fish found in lakes and rivers.

Gold

800
+1,500
Forest of Valor

Rainbow Trout
Its unique scales give the fish its name.

White

50
+300

Red Algae
This rare creeping algae can be found in bodies of water across Dreamlight Valley. You think it might be able to help improve your Royal Fishing Rod somehow.

None

150

Salmon
A common fish found just about everywhere!

White

150
+500

Seaweed
A type of algae found in the ocean.

None

20
+25

Shrimp
Crustaceans that eat food off the ocean floor.

Blue

300
+750
Dazzle Beach

Sole
A flatfish that is shaped like a tongue!

White

200
+500
Forgotten Lands

Squid
Famed for their large heads and eight arms.

Blue

500
+1,000

Swordfish
This fish can really get its point across.

Gold

700
+1,500
Dazzle Beach

Tilapia
A small fish often found in shallow rivers.

Blue

600
+1,150

Tuna
Large fish who make their home in the ocean.

White

95
+350

Walleye
Large brown fish found in fresh waters.

Gold

1,100
+1,700
Sunlit Plateau

White Sturgeon
These huge fish can live to be 100 years old!

Gold

1,200
+1,800
Frosted Heights
Limited Time Fish
These festive fish are available December 18th - December 31st 2022. One of each type can be caught and catching each of them is a requirement of the seasonal task "Even Fish are Festive" which awards

Santa Hat.
Image
Name
Description
Ripples
Energy
Locations

Festive Anglerfish[1][2]
Bony fish with large mouths and sharp teeth waiting under the mistletoe... Kiss at your own risk!

Red

&

Green

+2,000
Forgotten Lands

Festive Bass[1]
Bass can be festive just about everywhere!

Red

&

Green

+150
Peaceful Meadow

Festive Fugu[1][3]
These festive fish inflate themselves when threatened by a merry good time!

Red

&

Green

+1,700
Dazzle Beach

Festive Salmon[1]
These festive fish will swim upstream to celebrate holidays with their family.

Red

&

Green

+500
Sunlit Plateau

Festive Squid[1]
Famed for their large festive heads and eight arms to give great holiday hugs!

Red

&

Green

+1,000
Glade of Trust