Ariel
Jump to navigation
Jump to search
Ariel is a character from the Disney film The Little Mermaid (1989).
She lives in the water, which can make speaking with her difficult if she's too far from shore. After completing Prince Eric's friendship quest

Part of His World, she'll be able to return to land, making speaking to her much easier.
As a curiosity, she can be given any role except for fishing, possibly due to her being friends with sea creatures, although she can be given the role later via the Fishing Training Manual. Also, if she is turned back into her mermaid form after assigning her a role, the player loses the option to hang out with her and can only regain it if she is turned into a human again. She maintains her role though.
Unlocking
To unlock Ariel players must first start the quest

The Mysterious Wreck. This quest begins after picking up a Mysterious Paddle on the Dazzle Beach, near the skull rock. After finding the paddle, the quest will start - prompting to return to Goofy.
After returning the paddle to him he'll task the player to collect Hardwood (30), Rope (7), Clay (25), and Iron Ingot (10) to repair the Wrecked Raft on the beach. After collecting the materials speak to Goofy, return to Dazzle Beach and the raft will be fixed.
Players can embark on the newly repaired raft to begin a new quest,

The Lonely Island, which will introduce the player to Ariel. After speaking with her she'll ask the player to build her a house, do this and she'll move to the Valley.
Schedule
Main article: Time.
| | Time | Location |
| --- | --- | --- |
| | 6:00 AM | Unavailable. Sleeping inside her home. |
| | 10:00 AM | Wandering the Valley or visiting her home. |
Friendship Rewards
Ariel will award the following rewards when Friendship levels are reached. Friendship can be leveled up through gifts, quests, conversation, or by hanging out.
↑ 1.0 1.1 Rewarded after completing the quest The Ancient Doorway ( Ariel Level 10)
House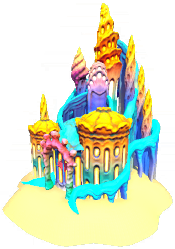 Main article Ariel's Sea Castle
Ariel's house is a large coral sea-castle. It must be placed in any body of water large enough to hold it but it does not need to be located in Dazzle Beach.
Quests
Friendship Quests
Dream Styles
History
1.0: Added
1.2.0: Ariel can now hang out with the player and switch between her human and mermaid forms. She can also be given a role except for fishing.