Scrooge McDuck
Jump to navigation
Jump to search
Scrooge McDuck is a character from the classic Disney cartoons.
When the player arrives in Dreamlight Valley Scrooge already lives there and has a store in the Plaza. Scrooge provides the player options to purchase and upgrade wells, stalls, and character houses as well as operating a store with a daily rotating stock of clothing and items.
Schedule
Main article: Time.
Scrooge McDuck does not sleep or eat at Chez Remy, he can be found inside his store at all times of day and night.
Friendship Rewards
Scrooge McDuck will award the following rewards when Friendship levels are reached. Friendship can be leveled up through gifts, quests, conversation, or by hanging out.
↑ Rewarded after completing the quest The Treasure Hunt Part 2 ( Scrooge McDuck Level 10)
House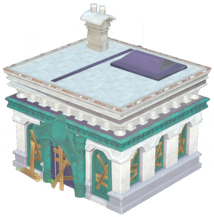 Scrooge McDuck does not have a separate house, but can always be found inside his general store.
Quests
Story Quests
Friendship Quests
History